NRC CHARITY AWARDS

2019
NRC Charity Awards 2019 - Shared second place winners, professional jury, category print.
Created together with Luke Vermeulen.

Overview
Tim (14 years old) offers sex through a supermarket advertisement: 10 minutes for 50 euros. The advertisement is intended as a metaphor for the shadowy world of boy prostitution, which is still very hidden in the Netherlands. Through the supermarkt advertisement it suddenly gets close.

Every day in the Netherlands there are around 1500 boys aged 12 to 18 who are abused, recruited, assaulted or threatened. There is a big taboo on boy prostitution and abuse of boys. Because there is hardly any talk about it, there is almost no attention for these boys or the problem.

In a collaboration between the NRC Handelsblad and the Willem de Kooning Academy Luke and Rosa were assigned to make a 1/1 print advertisement for the charities Sterk Huis, Fier! and CKM.


Process
On July 29, 2019, Luke & Rosa filled the bulletin boards of various supermarkets with the advertisements of different boys of 13, 14 and 15 years old with the same message as Tim. Interested parties can call the telephone number, but they will hear a confronting message.

They designed several cards for three different supermarkets. These advertisements were shown in the larger cities such as; Amsterdam, Rotterdam, Utrecht and Tilburg.

This stunt was performed a few days before the publication of the advertisement in the NRC without people knowing. These cards had to look as credible as possible and make it look like these boys really existed.

After this stunt, Luke & Rosa prepared together with the charities a press release with the title 'Boys offer themselves for sex in the supermarket' to give it attention in the Dutch media. This was sent to newspapers, blogs, regional magazines and the like.

On August 1st our page was published in the NRC, people were aware that the bulletin board messages was a deliberate action from us.

*Bodycopy translation:
"Boys are being forced too.
Tim is the victim of boy prostitution. He is one of the 1500 boys in the Netherlands who are forced to offer themselves. These boys are recruited at a young age and have forced sex with men. It is a hidden, dark world with little attention for. That must change. Everyone has the right to attention and help."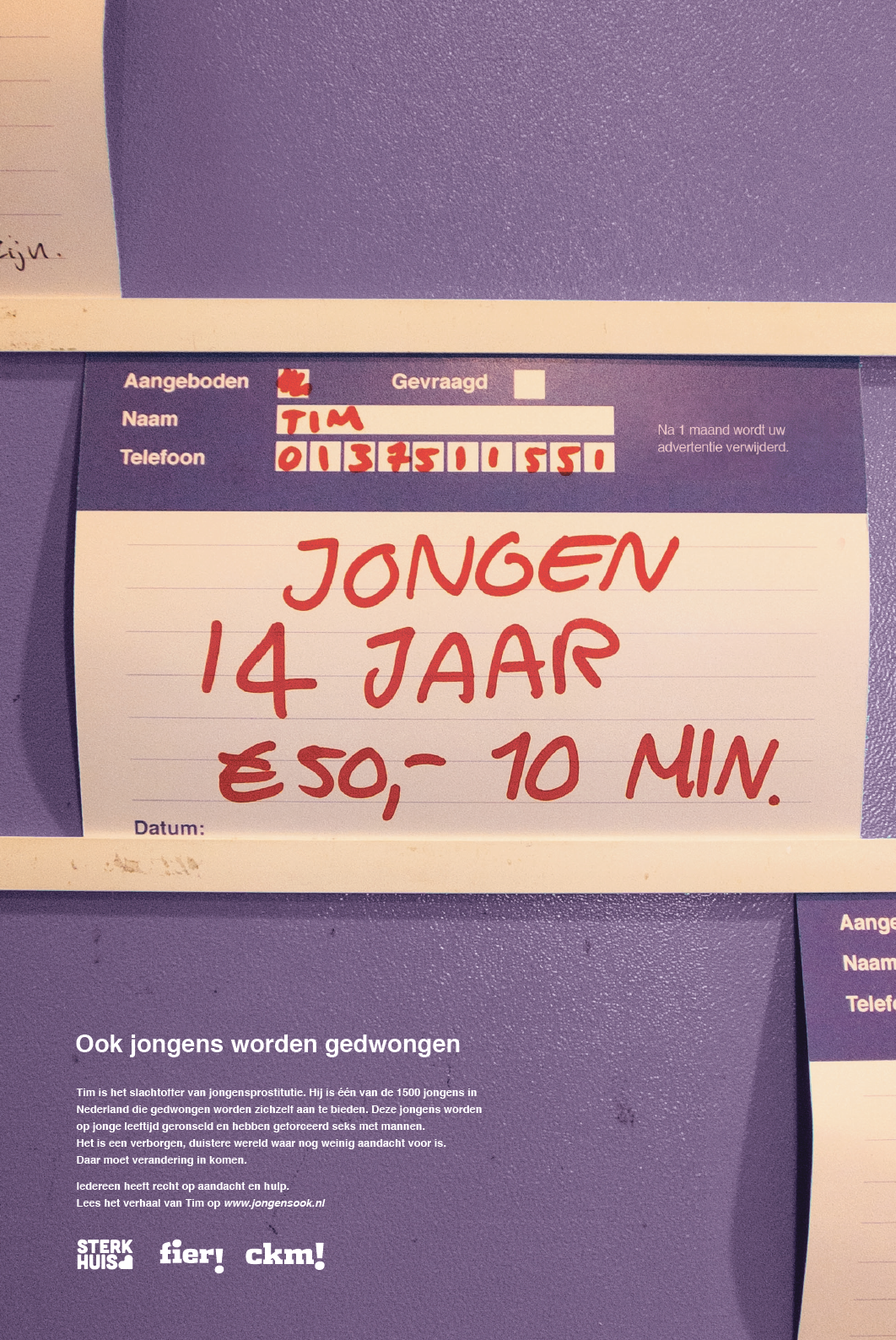 Professional jury
"This advertisement is strong in its simplicity. Because the image is so real, it hits you in the face immediately. The message can really be felt."
"Deze advertentie is sterk in zijn eenvoud. Omdat het beeld zo echt is, komt het direct binnen. De boodschap is écht voelbaar."
Rosa Zwiers & Luke Vermeulen: concept, graphic design, photography